Copperas Creek Farm
Miniature Mediterranean Donkeys
Please check out our new, affordable prices!

Selectively Bred & Gently Raised!
*E-Mail Us With Your Questions & Let Us Know What You Are Looking For!*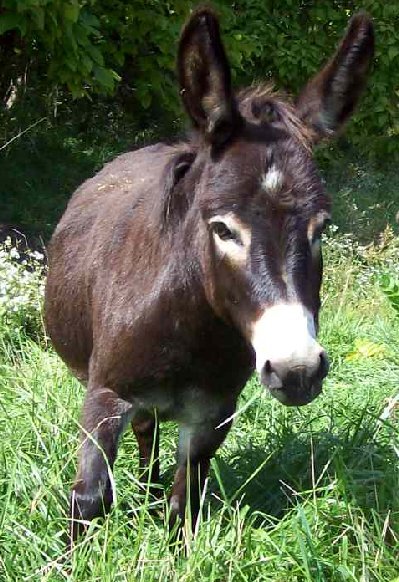 Welcome to our farm. We are located just 30 minutes west of Peoria, Illinois. We have one of the largest herds of registered miniature donkeys (80 at one time), if not the largest herd in the state of Illinois. Many of our donkeys now reside in their new homes throughout the United States (Maryland, New Hampshire, New York, Colorado, Arizona, Illinois, Florida, Georgia, Michigan, Wisconsin, Kentucky, California, Oregon, Utah and Massachuetts), Australia, France and England to either add quality breeding stock to existing breeding programs or to just be pets.
We have been selectively breeding and gently raising miniature donkeys since 1994. We have discontinued breeding our jennets, but still have some nice donkeys to choose from. Miniature donkeys are truly the pet for the whole family to enjoy. They are very intelligent and return your affection 110%. They can be trained to pull carts, to carry small children on their backs and lots of people really enjoy showing them at equine events. Miniature donkeys also make great 4-H projects for the kids.
One of our main herd sires, Crown Meadow's Figgy Newton , is now a gelding and is for sale for $500. He has a star on his forehead. He has produced wonderful foals for us. One of his offspring (Startrek) is now in Australia to produce more fine foals. Some of his foals are in England and France as well.

Another outstanding herd sire is our 31 1/2" gray dun Mini Trails Candy Stripper who has produced chocolates, sorrels, smoky blacks as well as the beautiful traditional gray duns for us. Both of these jacks are loaded with personality as well as quality and continue to amaze us with the beautiful foals they have sired. You will be able to see their prodigy throughout our web site. Mini Trails was our first donkey and has a forever home with us. He is the little guy that got us started and began our love for miniature donkeys. He is now a gelding and enjoying his retirement.
The 2003 International Mule & Donkey Congress at Springfield, IL . NASMA and NMDA approved.
Our Donkeys & Their Destinations

Jennets For Sale

Jacks For Sale

Foals 2010

Foals 2009

Foals 2008

Foals 2007
Free Donkey Tech Support For New Owners
Experienced in Exporting & Quarantine
Transportation within the US can be arranged.
Interest Free Lay-a-way Plans Accepted
Rowan & Julie
Canton, Illinois
(309)647-7162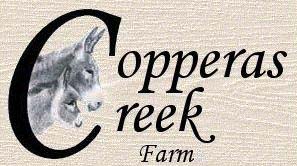 This site was created by Julie
*Prices subject to change according to the age of the donkey and breeding status.
This site was updated 09/28/12
Copperas Creek Farm © 1995 All Rights Reserved
The contents and photos on this web site are the intellectual property of Copperas Creek Farm and may not be reproduced without written permission. Disclaimer: Any Wav/Midi Files Used Were Believed To Be For Public Use. If this is not the case and you find something that belongs to you, please email me and it will be removed promptly.
"Dueling Banjos" is by The Smokey River Boys and their CDs can be purchased from their site at www.smokeyriverboys.com .

-