Copperas Creek Creations
Custom Handwoven Rugs
Made in the USA!

Most of these rugs are made from purchased fabric. Width is approximately 28" to 29" wide by whatever length needed. They are woven on a vintage floor loom.
Cost is $1.10 per foot length-wise.*
Rug Care


Custom orders are welcome with 50 % down. Shipping fees are buyer's responsibility and cost would be determined by weight and shipping fees from 61520 to your area.
If you have questions, please feel free to email me at alot2do@copperascreek.com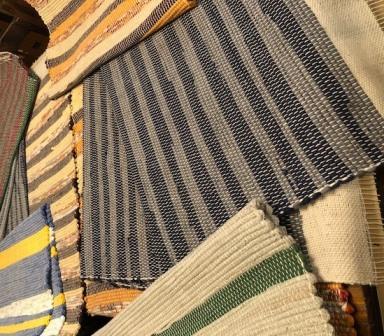 Item 70
Brown/Tan/Hunter Green 56" x 28 3/4" $62.00


Item 57
Peach/Gray/Blue/White Fringed 42" x 28 3/4" $46.00



Item 72
Denim/White Mixed

(SOLD)

Item 58
All Denim

(SOLD)


Item 61
Tan With Black Stripes

(SOLD)


Item 69
Gray/Tan/Red Stripes 45 3/4" x 28 1/4" $50.00

Item 36
Yellow Floral/Blue Flannel 61 3/4" x 24 1/2" $68.00
*Note: Final lengths can vary an inch or so either way as once the rugs are taken off of the loom they will relax or draw up a little bit. If they end up shorter than what you paid for I will issue a refund per inch that it lacks. I try to weave beyond so the chance of them turning out longer is more often the case.

Copperas Creek Creations © 1995 All Rights Reserved
The contents and photos on this web site are the intellectual property of Copperas Creek Creations and may not be reproduced without written permission.